How we've grown
We have:
●     156 services across 45 organisations using RealMe login
●     108 services across 19 organisations using RealMe verified identity

We have continued to make improvements to RealMe, to support New Zealanders' needs and make online services easier.

In May 2015 we introduced the passport co-apply option.
In September 2015 we introduced StudyLink's use of verified identity for students.
In August 2019, our new web photo capture technology went live, allowing customers with a NZ passport to upload their own photo for the verified identity application.
In April 2021, in Phase 1 of our replatforming project, the login and assertion services were moved to Microsoft Azure B2C. 
In July 2022, Phase 2 of the replatforming project saw the account and consent services moved to the new Azure platform. 
From 1 July 2013 to 28 February 2023 there have been: 
85.9 million
successful logins 
1,178,288
verified identities issued
2.3 million
verified identities used
---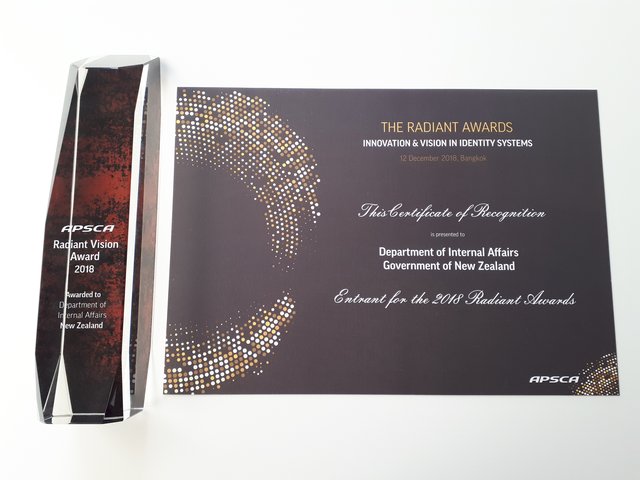 We are a leader in digital identity services
RealMe® is recognised across Australasia as a leading digital identity service.
In 2014 we won the Security and Online Safety category at the Australia and New Zealand Internet Awards in Melbourne. 

In 2018 RealMe® received the Radiant Vision Award at the Radiant Awards for Innovation and Vision in Identity Systems. 
---
Privacy and security
We take privacy and security very seriously.  In fact, we were the first government service to be awarded the Privacy Trust Mark. 
For more information go to our Privacy and Security page.
---
Our future
The Department of Internal Affairs (DIA) is leading the two-year Digital Identity Transition Programme, to develop options for the strategic direction of digital identity in New Zealand. This includes the future role of RealMe.
This work includes recommendations that will enable people and businesses to share information in a safe and secure way, in order to access a range of digitally-enabled services.  
RealMe services are core infrastructure for the proposed ecosystem, as our services provide an established capability that others can  access and build on.
More services are becoming digital all the time. We will continue to work across government and the private sector to make it easier to do the important things online, safely and securely.